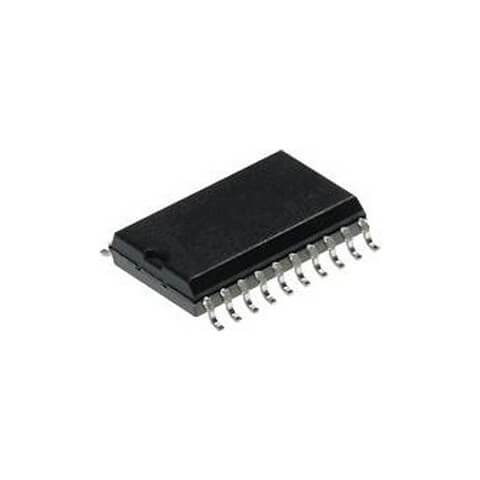 ADM2582EBRWZ
RS-485 Transceiver
Interchange Technology: magnetic coupling
Number of channels: 3
Channel configuration (forward / reverse): 2/1
Polarity: unidirectional
Insulation voltage: 2500vrms
Data rate: 16mbps
Supply voltage: 3.3, 5
RS-485 Transceiver (16Mbps), Power and Signal Isolation 2.5 kV [SO-20W]
---
Inquire Now
Description

GENERAL DESCRIPTION:

So the ADM2582EBRWZ ADM2582E/ADM2587E are fully integrated signal and power isolated data transceivers with ±15 kV ESD protection and are suitable for high speed communication on multipoint transmission lines. Moreover the ADM2582E/ADM2587E include an integrated isolated dc-to-dc power supply, which eliminates the need for an external dc-to-dc isolation block.
So they are designed for balanced transmission lines and comply
with ANSI/TIA/EIA-485-A-98 and ISO 8482:1987(E).
| | |
| --- | --- |
| Nom. number | 9000090696 |
| A type | rs422, rs485 |
| Interchange Technology | magnetic coupling |
| Number of channels | 3 |
| Channel configuration (forward / reverse) | 2/1 |
| Polarity | unidirectional |
| Insulation voltage | 2500vrms |
| Data rate | 16mbps |
| Supply voltage | 3.3, 5 |
| Working temperature ° C | -40 … + 85 |
| Body | soic-16 (0.295 inch) |
| Weight g | 0.9 |
| Manufacturer | Analog Devices |
What's more?
So the ADM2582E/ADM2587E driver has an active high enable.
Therefore an active low receiver enable is also provided, which causes the receiver output to enter a high impedance state when disabled.
In addition to this the devices have current limiting and thermal shutdown features to protect against output short circuits and situations where bus contention may cause excessive power dissipation.
Moreover the parts are fully specified over the industrial temperature
range and are available in a highly integrated, 20-lead, wide-body
SOIC package. Get ADM2582EBRWZ now.
Why To Purchase From Megatronika?
So After many years of development, we have a large stock in stock, reasonable price and fast delivery. Therefore we stock millions of hard-to-find parts from trusted resources. Moreover Megatronika has QA specialist that only pass those products which fits in our quality supply demand. So Either you purchase an item from us, or sign a contract for enterprise solutions. However for more bulk product purchase or just single item purchase. In addition to this we take care of all your needs and quality aspects throughout the process. So get it now. But in affordable price.