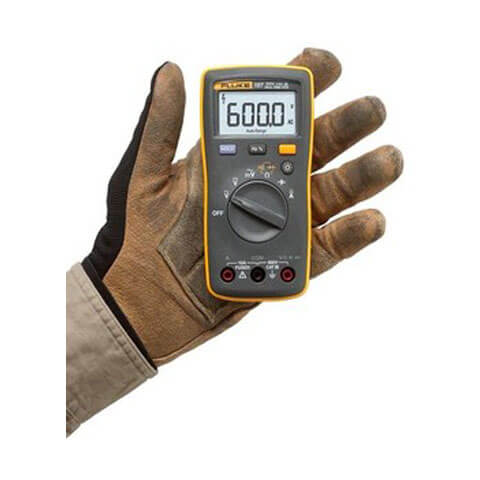 Fluke 107
Digital Multimeter (State Register)
Selection of measurement limits: manual / automatic
DC voltage measuring ranges: 600
AC voltage measurement ranges: 600
Ranges of measurement of a direct current: 10
AC Measurement Ranges: 10
Resistance measurement: Yes
Capacitance measurement: Yes
---
Inquire Now
Description
New models of digital compact multimeters for professional and domestic use Fluke 106 and Fluke 107 are entering the Russian market. The Fluke 106, Fluke 107 models are compact, multifunctional multimeters, easy to use and reliable tools that fit easily in the palm of your hand and can be used anywhere.
Fluke 106 and Fluke 107 multimeters allow you to measure the values ​​of various electrical parameters such as: DC and AC voltage up to 600V, resistance up to 40 MΩ, capacitance up to check integrity, capacitance up to 1000 μF, AC frequency up to 100 kHz. In addition, the Fluke 106, Fluke 107 multimeters have built-in input terminals for measuring AC and DC currents up to 10 A, and a readout function.
The Fluke 107 multimeter, unlike the Fluke 106 model, has a backlit display and a duty cycle measurement function.
Key characteristics of the device
Voltage, resistance, integrity, capacitance.
Input terminal for measuring AC and DC current up to 10 A and current.
Holding readings.
Display with backlight (only at 107).
Checking diodes, as well as measuring frequency and duty cycle (only 107).
General characteristics
Maximum voltage between any terminal and ground potential 600 V
LCD display 6000 counts, refresh rate – 3 / s
Battery type 2 AAA, NEDA 24 A, IEC LR03
Battery life Minimum 200 hours
Temperature:
Operating conditions from 0 ° C to 40 ° C
Storage from -30 ° C to +60 ° C
Relative humidity:
Operating humidity Non-condensing if <10 ° C ≤90% at 10-30 ° C; ≤75% at 30–40 ° C Operating humidity, in the range of 40 megohms ≤80% at 10–30 ° C; ≤70% at 30–40 ° C Temperature coefficient 0.1 X (standard error) / ° C (<18 ° C or> 28 ° C)
Fuse protection for current inputs: FAST fuse for 11 A, 1000 V, part only Fluke specified
Dimensions (L x W x H) 142 mm x 69 mm x 28 mm
Weight 200 g
Degree of protection IEC 60529: IP 40
Safety IEC 61010-1: 600 V CAT III, pollution degree 2
Electromagnetic field IEC 61326-1 : Portable
Package Contents:
Digital multimeter.
Test leads.
2 AAA batteries (installed).
User manual.
| | |
| --- | --- |
| Nom. number | 9000198841 |
| Manufacturer | Fluke |
| Selection of measurement limits | manual / automatic |
| DC voltage measuring ranges | 600 |
| AC voltage measurement ranges | 600 |
| Ranges of measurement of a direct current | 10 |
| AC Measurement Ranges | 10 |
| Resistance measurement | Yes |
| Capacitance measurement | Yes |
| Frequency measurement | yES |
| Temperature measurement | not |
| State registry | Yes |
| Weight g | 200 |