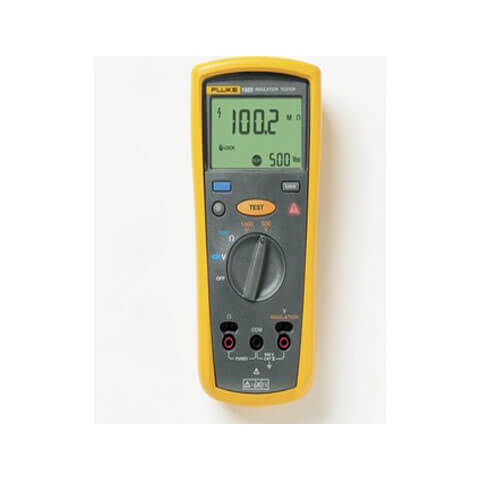 Fluke 1507
Insulation Resistance Meter (State Register)
Weight g: 550
DC voltage measurement: 600
AC voltage measurement: 600
Resistance Measurement Ranges: 0.01m … 10g
State registry: Yes
---
Inquire Now
Description
Fluke 1507 Insulation measurement range: from 0.01 MΩ to 10 GOhm
Insulation test voltages: 50 V, 100 V, 250 V, 500 V, 1000 V
So save time and money by automatically calculating the polarization index and dielectric loss coefficient
Perform periodic measurements using the normal / fault comparison function
Moreover a sensor for remote measurements allows periodic measurements or measurements in hard-to-reach places
Protection against measurements of insulation resistance in circuits under voltage> 30 V for additional user protection
Self-discharge capacitive voltage for added user protection
AC / DC voltage: 0.1 V to 600 V
In addition to this get Integrity check current: 200 mA
Resistance: from 0.01 Ohm to 20 kOhm
so Auto power off to extend battery life
Instrument readings are displayed on a large display with backlight
Also Overvoltage category CAT IV 600 V for added user protection
Included each meter includes: a remote sensor, test leads, crocodile sensors and clamps
Get this amazing product now and use in versatile use!
| | |
| --- | --- |
| Nom. number | 9000025342 |
| Manufacturer | Fluke |
| DC voltage measurement | 600 |
| AC voltage measurement | 600 |
| Resistance Measurement Ranges | 0.01m … 10g |
| State registry | Yes |
| Weight g | 550 |
Why Megatronika?
So the Megatronika company offers its services in the supply of imported equipment, electronic and industrial devices at an affordable price. But we are not limited to this. The thousands of daily orders and huge orders from retailers describes our trust. Moreover we have the quality products from well-known manufacturers from around the world. Moreover we have everything now collected in one catalogue. In order to order any of the offered goods. In addition to this it is necessary to fill out an application on the website or discuss the details of the order by telephone. So get Fluke 1507 now.