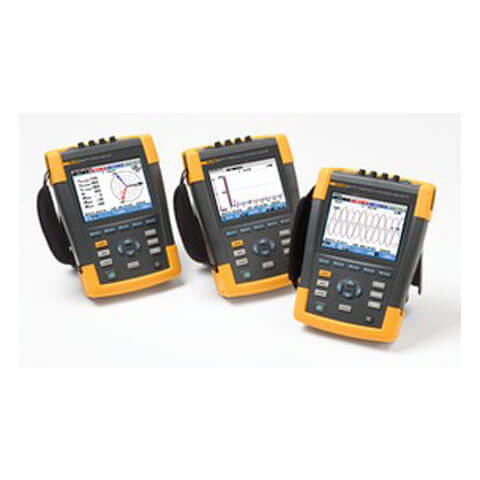 Fluke 435 II
Three-Phase Network Power Quality Analyzer
Appointment : analysis of parameters
State registry: Yes
(State Register)
---
Inquire Now
Description
Overview:
The new Fluke 435 II Quality and Energy Analyzers offer the best functionality. Hence for energy quality analysis and, for the first time, offer the option of monetary quantification of energy loss.
Moreover the new Fluke 434, 435, and 437 Series II models will help you detect, prevent, and find out the causes of power quality problems in three-phase and single-phase distribution systems. In addition to this, Fluke's patented energy loss calculation algorithm, Unified Power Measurement. Moreover allows you to measure and quantify energy losses due to low power quality problems. But such as harmonics and imbalances, allowing the user to isolate the source of energy losses in the system and carry out the necessary repairs.
Improvements made at the request of customers:
New flexible x4 current sensors with an extended range – from 0.5 A to 6000 A
Standard isolated USB port with updated PowerLog 3.0 software
Lighter lithium-ion battery for longer battery life
Memory card SD 8 GB, support of cards up to 32 GB allows registration for months
New bright full-color LCD with a diagonal of 153 mm
Scope of delivery:
Optional BC430 power adapter
Set of adapters for sockets of various standards
BP290 (lithium single-capacity i-ion battery) 28W • h (7 hours or more)
Set of TL430 test probes and a set of crocodile clips
WC100 color-coded latches and labels according to regional standards
i430flex-TF flexible current sensors, 24 inches (61 cm) long, 4 pcs.
SD card 8 GB
So PowerLog software on CD (the operator's manual in PDF format on the disc). Fluke View integrated with new Powerlog software
USB cable AB mini
Fluke 435 II
3 year warranty of Fluke 435 II.
| | |
| --- | --- |
| Nom. number | 9000136462 |
| Manufacturer | Fluke |
| Manufacturer | Yes |
| Appointment | analysis of parameters |
Why to purchase from Megatronika?
After many years of development, we have a large stock in stock, reasonable price and fast delivery. Therefore we stock millions of hard-to-find parts from trusted resources. Moreover Megatronika has QA specialist that only pass those products which fits in our quality supply demand. So Either you purchase an item from us, or sign a contract for enterprise solutions. However for more bulk product purchase or just single item purchase, we take care of all your needs and quality aspects throughout the process. So you can buy it now!