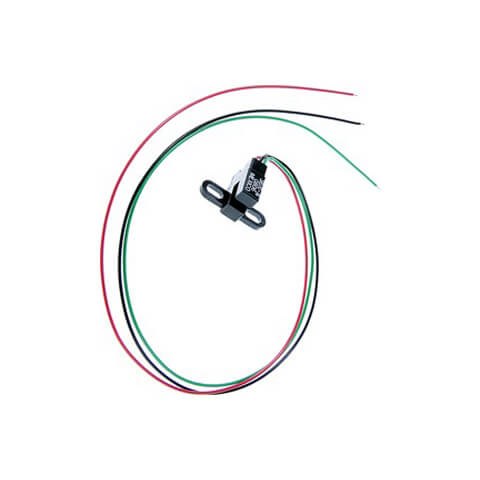 SR17C-J6
Hall sensor
Type of output: digital with ok
Sensor Type: hall element
The presence of a built-in magnet: there is
Field Sensitivity Type: built-in magnet
Min supply voltage, V: 3.8
Max supply voltage, V: 20
Max output current, mA: 40
Hall sensor with magnet horizontal flange
---
Inquire Now
Description
The SR17C-J6 is a Hall-effect Vane Position Sensor with 26AWG 7-strand lead wire termination. Moreover the SR17 series hall effect vane sensor is designed for the position and speed sensing and is offered in a side mount package. In addition to this the cost-effective SR17 series sensor is tailored for fitness and information technology applications. So they are well suited for use in moderate electrical, chemical and mechanical environments. However the SR17 series sensors contain an internal magnet and Hall effect sensor mounted in a side mount twin tower configuration. In application, a customer supplied ferrous target passes between the tower gap, interrupts the magnetic field and switches the digital state of the sensor. Also this robust solid-state Hall effect sensor is housed in an environmentally sealed plastic package.
So it has a Low carbon steel, high permeability, low residual induction.
Mechanically interchangeable with our standard optical style sensor.
Moreover the operated by a ferrous vane interrupter for pulse counting or position sensing.
Current sinking (open collector) output.
Medium level magnetic switching to reduce stray field interference.
Hence internally sealed package for moderate environment applications.
Therefore no mechanical contacts, eliminates product wear.
Noncontact position sensing.
| | |
| --- | --- |
| Nom. number | 220822998 |
| Type of output | digital with ok |
| Sensor Type | hall element |
| The presence of a built-in magnet | there is |
| Field Sensitivity Type | built-in magnet |
| Min supply voltage, V | 3.8 |
| Max supply voltage, V | 20 |
| Max output current, mA | 40 |
| Temperature range, gr. from | -20 … 85 |
| Body | sr17 |
| Weight g | 4 |
| Manufacturer | Honeywell |
Why Megatronika?
So the Megatronika company offers its services in the supply of imported equipment, electronic and industrial devices at an affordable price. But we are now limited to this. The thousands of daily orders and huge orders from retailers describes our trust. Moreover we have the quality products from well-known manufacturers from around the world. We have everything now collected in one catalogue. In order to order any of the offered goods. In addition to this it is necessary to fill out an application on the website or discuss the details of the order by telephone.
So You can simply order SR17C-J6 from Megatronika and wee have this in amazing price and quality. Moreover the product is brand new and can be shipped right to you.